Nature and Psychology: What's the Connection?
Nature has been an influential part of my life since I was a young child. I was born in Florida but I have spent the majority of my life in Vermont. No matter where I have lived, my favorite place to be has always been somewhere in nature. Hiking Vermont's mountains, spending the day on the shores of Lake Champlain, and exploring Vermont's waterfalls and hidden gems are some of my favorite ways to build my connection to nature and improve my mental and physical health. As a result of my deep appreciation for nature and what it provides me with, I knew that pursuing a career in an environment-related field would be my calling.
As a child, I wanted to be a veterinarian due to my love of animals. Later in my adolescence, I wanted to pursue marine biology, and I even attended a week-long marine biology camp on the island of Grand Manan in New Brunswick. Once I started college, I became interested in psychology but I knew I still wanted to incorporate environmental conservation into my career. One day, I was doing research on different subfields of psychology in my dorm room during my sophomore year of college. I came across Conservation Psychology, a field that perfectly fit what I wanted to devote my life to. The feeling of accidentally coming across a career that encompasses all of my interests and passions was indescribable. This discovery is what led me to doing my internship here at the Nature Connection Guide, an opportunity that I am truly lucky to be a part of. 
What is Conservation Psychology?
Conservation Psychology is a subfield of Environmental Psychology. Environmental Psychology studies the relationship between humans and the physical environment, while Conservation Psychology studies the reciprocal relationship between humans and nature, and in turn, how this relationship influences environmental conservation. Although Environmental Psychology was established as a field of psychology in the 1950s, the specific interest of establishing Conservation Psychology as a subfield didn't occur until the late 1990s.
What is particularly interesting about this new field is that it was created with the intention of combining already gathered research from multiple fields and disciplines in order to allow psychologists and researchers from different concentrations to work collaboratively toward a common goal [1]. Researchers that contribute to this field can specialize in environmental, cognitive, developmental, social, behavioral, and clinical subfields of psychology. The goal of Conservation Psychology is to utilize a variety of empirical research and major psychological findings about human behavior to determine courses of action for pro-environmental behaviors and sustainability. Behaviorism – the idea that human behaviors are learned through our interactions with our environment – is the major focus of Behavioral Psychology and other behavioral sciences [2]. Conservation Psychology draws upon what we have learned about these interactions to investigate what exactly leads to sustainable behaviors, or lack thereof.
As Jacques Cousteau stated, "People protect what they love." Why do we protect what we love? Why do some people value nature while others do not? How do we strengthen our connection to nature, and therefore, include it as something that is worth protecting? Conservation Psychology seeks to answer such questions.
Conservation Psychology in Action
Before applying what we know about human behavior to conservation efforts, we must start by learning all that we can about our relationship with nature. Research on the effects of nature exposure and nature connectedness on both physical and mental health has grown significantly in recent years. Several studies have found that nature exposure has profound positive impacts on our cognition (memory, attention, cognitive flexibility, etc.), mental health (stress reduction, decreased symptoms of depression and anxiety, increased happiness), and physical health (decreased blood pressure, increased immunity, etc.) [3]. Simply listening to birdsong [4], standing barefoot on the earth (known as grounding or earthing) [5], and sitting outside in the sun [6] has positive effects on the mind and body.
What is critical to note is that there is a significant difference between the effects of nature exposure and nature connectedness. While we may still experience nature exposure on a daily, weekly, or monthly basis, Western society has created a lack of true nature connectedness. Nature connectedness is defined as the extent to which we make nature part of our identity. In addition to receiving greater benefits from nature connectedness, research has shown that nature connectedness has a strong correlation with environmentally responsible behaviors, or sustainable attitudes, actions, and lifestyles [7].
To transform our knowledge into action, there are a variety of practices that reflect what we've learned about the human-nature relationship and its importance to conservation. One practice that has been noticeably effective for strengthening our connection to nature is forest bathing, also known as Shinrin-Yoku. This is the practice that I am learning a great deal about through my internship here at the Nature Connection Guide. Forest bathing, which I encourage you to learn more about here, involves tuning in to all of your senses as you engage in a guided walk through the forest. Forest bathing is for those who want to tap into the extensive list of benefits that you can get by slowing down and really noticing what is around you when you are in a natural environment. Forest bathing can even help with conservation efforts, because the practice increases our appreciation and value of our forests, and therefore, increases forest protection [8]. 
Nature/Park Rx Programs
Another practice that is contributing to both human wellbeing and environmental conservation is the development of Nature/Park Rx Programs. Park Rx Programs are typically a collaborative effort between conservation organizations, state parks, and physicians or other healthcare providers. The Park Rx Program allows doctors to prescribe patients with a free day pass to a park in your state as a form of treatment for a variety of physical and mental health issues. Doctors can also provide a general prescription for patients to spend time in any natural setting, not just state parks.
In the United States, there are between 75-100 Nature Rx Programs [9]. Here in Vermont, there are three Park Rx Programs that were implemented within the last 10 years and are still developing. The collaboration between state parks, environmental organizations, and healthcare providers helps with the protection of each state's natural areas, forests, and parks. A prescription for nature, particularly free passes to state parks, also relieves any entry fees, thereby making time spent in nature more easily accessible to patients. Although there has been a major improvement in the expansion and development of these programs, there is a lack of awareness about the programs on the side of healthcare providers. Read more about the benefits of Nature/Park Rx Programs here.
Why Does This Matter?
The growing concern regarding environmental issues, including climate change, biodiversity loss, habitat loss, and the impact of environmental damage on human health, indicates that greater conservation efforts are necessary to mitigate these issues. Conservation Psychology serves as an important tool for students, the public, professionals of different fields, and even government agencies and officials to learn how to properly address environmental concerns and implement sustainable behaviors. Reestablishing our connection to nature and effectively encouraging sustainable behaviors is not only vital for environmental conservation, but human health and wellbeing, as well.
In order to promise a sustainable future, we must recognize the reciprocal relationship and interdependence that we share with nature. Depending on where we live, many of us have the privilege of being able to connect with the natural world around us. For those who live in highly populated/industrialized urban areas, who do not have access to transportation, and people who are low-income, spending time immersed in nature can be extremely difficult. By recognizing the importance of nature connectedness, we can create opportunities for more people to receive the benefits of nature. The Nature/Park Rx Program and the practice of Forest Bathing are fantastic examples of how we can achieve this. 
What Can You Do?
There are several ways that you can personally contribute to the overall goal of Conservation Psychology. Remember, the goal is to strengthen your relationship with nature and participate in conservation efforts if possible. Simply learning about how nature connectedness can influence environmental conservation is a great start to contributing! Try to reserve as much time as you can out of your schedule to spend time in nature. If you find that you can include a walk or two in nature in your schedule, practice tuning into your senses. Evaluate your current connection to nature and think about ways that you can improve that connection. Do you feel that you already have a strong connection to nature? If not, think about why that is. Lastly, see if your healthcare provider is registered with the Park Rx Program. If they are not, see if they are willing to register and prescribe nature as a free form of treatment!
Footnotes
[1] https://www.oxfordhandbooks.com/view/10.1093/oxfordhb/9780199733026.001.0001/oxfordhb-9780199733026-e-1 
[2] https://humansandnature.org/can-psychology-help-save-the-world/ 
[3] https://www.apa.org/monitor/2020/04/nurtured-nature 
[4] https://www.nhm.ac.uk/discover/how-listening-to-bird-song-can-transform-our-mental-health.html 
[5] https://heartofenglandforest.org/news/grounding-get-barefoot-forest  
[6] https://www.tricitymed.org/2018/08/5-ways-the-sun-impacts-your-mental-and-physical-health/#:~:text=Getting%20some%20sun%20increases%20your,in%20combination%20with%20other%20treatments. 
[7] https://link.springer.com/article/10.1007/s40362-014-0021-3 
[8] https://natureconnectionguide.com/forest-bathing-helps-save-forests/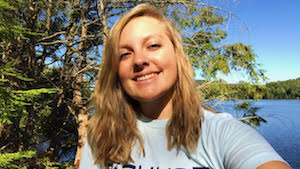 Jordon Spence is the Ecopsychology Research Assistant for the Nature Connection Guide. The career she is working toward is Conservation Psychology, which is the study of the relationship between humans and nature, as well as how we can utilize this knowledge to encourage conservation and sustainable behavior. Jordan's goal for her internship experience with the Nature Connection Guide is to learn as much as she can about how we can help people strengthen their connection to nature through forest bathing and other practices, engage in mindfulness, and create greater conservation efforts in communities.

Subscribe to the Nature Newsletter
Contact Nature Connection Guide
Nature Connection Guide
The Everyday Guide to deepening our connection and relationship with Nature for our health and the planet's prosperity.