The Science-Based Benefits of Forest Bathing
Recent Research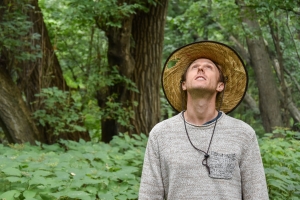 We are seeing more research on the health benefits of nature itself more than ever before.   Aside from those benefits one receives from nature in general, we are going to explore the specific benefits that forest bathing, especially guided forest bathing provides us. Let us begin with a quick run-down of the recent findings:
In a 2020 study, researchers analyzed the hypothesized difference in psychological effects of forest bathing in a real natural setting versus digital forest bathing. In this context, digital forest bathing is when you watch a video on a computer or other device of someone showing you the practice of forest bathing in a forest environment. Through forest bathing sessions (in-person or digital) and online questionnaires over the course of 4 weeks, the results showed that participants assigned to the in-person forest bathing sessions experienced higher positive affect and improved well-being compared to those assigned to the digital forest bathing.
Even further, five major themes appeared in the forest bathing group: the senses, enjoyment, refreshed mindset, positive emotions, and environment. 1 month follow-ups with participants of the forest bathing group also showed significantly higher levels of positive affect and well-being, indicating that participants in this group continued practicing forest bathing after the conclusion of the study. Amazing! We will get into more about digital nature and virtual reality later.
 If you experienced isolation during the COVID-19 pandemic and lockdowns, you may have spent more time in nature as a safe way to get out of your house.  As a result of this isolation, the physical, psychological, social, and environmental benefits of spending more time in nature during the pandemic has been a particular area of interest for researchers. A 2021 study, published about a year and a half after the start of the pandemic, evaluated the potential impact of forest bathing on coping with the effects of COVID-19.
The researchers reviewed several studies that discussed the physiological benefits of nature. Spending time in forests has shown to strengthen the human immune response, including preventing infections and easily transmittable illnesses, through simply breathing in the aerosol composition and vapors of certain trees. Based on this information and the findings that the decreasing interactions between humans and nature are resulting in an increase in transmittable diseases and epidemic outbreaks, the researchers concluded that the practice of forest bathing can be used as a weapon against COVID-19 and future pandemics.

More in-depth research on the already discovered benefits of forest bathing is continuing to be conducted and published. Another 2021 study, conducted in central Europe, focused on the benefits of lowered blood pressure and a balanced immune system that come from engaging in forest bathing. Participants walked slowly through a forest environment for two hours while practicing deep breathing and had five rest periods throughout their walk where they were instructed to use their senses (touch, smell, and hear). The first walk occurred in spring and the second occurred in winter. Through blood samples, blood pressure, and pulse rates, it was found that systolic blood pressure decreased significantly and NK cells increased in both walks. Learn more about NK cells and other benefits here!
Spending at least 120 minutes per week in a natural environment comes with a plethora of health benefits (White, et al., 2019) Not coincidentally, this is how long a typical guided forest bathing walk is.
Guided vs. Non-Guided Forest Bathing
If you are new to forest bathing, you might be wondering if you can practice forest bathing on your own or if you need a certified guide to join you. Research has found that guided forest bathing does in fact allow you to experience more benefits than self-guided forest bathing. But do not let this deter you from partaking in the practice if you do not have access to a forest bathing guide! The main purpose of this specific research is usually to determine if guided forest bathing should expand as a useful tool around the world (it should!) and if there are any new benefits to be acquired from the practice.
Two studies were published in 2021, both exploring the differences between guided and non-guided forest bathing. The first study examined the differences between guided, self-guided, and "walk alone" forest bathing programs in Taiwan. Participants in the walk alone group experienced increases in sympathetic nervous system activity (the body's immediate and involuntary response to stressful or dangerous situations) and decreases in systolic blood pressure. Those in the self-guided group experienced an increase in heart rate values and decreases in both systolic and diastolic blood pressure, and those in the guided group experienced a decrease in systolic blood pressure. All three groups showed to experience approximately the same benefits and positive changes in mood states. 
There are also different psychological benefits to gain from guided and self-guided forest bathing. In the second study, 111 essays were collected and analyzed for common themes after participants engaged in a guided or self-guided forest walk. Participants in the self-guided group displayed a greater number of keywords related to introspection, while the guided group used more keywords associated with social interaction and change of emotion. In conclusion, if you are looking to self-reflect, self-guided forest bathing is for you. If you are looking for more positive changes in emotion and for the opportunity to build stronger social bonds, guided forest bathing is right for you. 
Subscribe to the Nature Newsletter
Contact Nature Connection Guide
Duncan Murdoch
CERTIFIED NATURE & FOREST THERAPY GUIDE Duncan is a Certified Nature & Forest Therapy guide living and working in Vermont. He grew up on the shores of Lake Champlain where his deep connection to Nature was formed. Following his passion for art, he moved to NYC where he lived and worked as a professional actor for 14 years. Nature called him to become a horticulturist so he transitioned to become a NYC parks department gardener which lead him to a life of nature (re) connection. After receiving his Nature & Forest Therapy Guide Certification from the Association of Nature and Forest Therapy (ANFT) in 2015, he began his practice in New York City guiding the first forest bathing groups in Central Park. He then moved back to his home state in Vermont in 2015 and began his work with the Intervale Center growing and planting native trees where he now serves as the Land Stewardship Coordinator. As a wellness practitioner, he is part of the UVM Integrative Health Practitioner Network and frequently conducts forest bathing experiences throughout Vermont and the world, in-person and online with his organization, Nature Connection Guide.
Nature Connection Guide
The Everyday Guide to deepening our connection and relationship with Nature for our health and the planet's prosperity.