10 Amazing Ways Nature Effects Us
We have intuitively known for centuries that being in the presence of nature is a magical experience that makes us feel alive and well. Now with the help of modern science, we can explain nature's effects in a language that more people can wrap their minds around. Let's explore 10 ways that nature effects us!
1. Phytoncides
As a defense against disease, insects and strenuous temperature fluctuations, coniferous trees such as pines and cypress release airborne compounds called Phytoncides.  Studies have shown that when we we breath this compound into our lungs, it has an amazing effect on our health.  Amazingly, our NK cells and anti-cancer protein levels are increased and remain elevated for days to follow.  NK or Natural Killer cells are an essential component to having a healthy and strong immune system that can fight off a plethora of illnesses. So Next time you visit a forest of pines take a deep breath and know your body is responding to the restorative properties of the trees.
2.  Soil
We've been intimately interacting with soil for our entire existence as humans but recently our obsession with sterility and cleanliness has moved us away from the benefits that the soil innately provides.  Within the soil exists a myriad of bacteria including one that has been getting a lot of attention lately called Mycobacterium vaccae.  There is a growing body of research that suggests that this bacteria can lower our stress and anxiety levels, improve our moods and boost our immune defenses.  Next time you find yourself digging in the earth, smell the soil and see how that makes you feel.
3.  Awe
We feel Awe when we experience something truly profound such as the northern lights, the grand canyon, a massive waterfall, a total eclipse or a particularly harrowing rapids trip.  That feeling of the sublime does something to us.  But what exactly? 
It wasn't until fairly recently that science started to assess the "awe factor".  Researches Jonathan Haidt and Dacher Keltner in 2003 found that when people experienced awe, they had increased feelings of connectedness and were more willing to help others.  "Awe-inducing events may be one of the fastest and most powerful methods of personal change and growth," they wrote.  Much research has been done since and the use of awe is being implemented today as a therapeutic tool to ease symptoms of PTSD.
During awe and residually afterwards, we act more generously, ethically, and often feel a deeper connection to others and the world in general. We lose ourselves and recognize that there is something greater.  We get a glimpse of the interconnectivity of the world and the universe and that's truly awesome.
4.  Negative Ions
When you're by waves crashing at the beach, a waterfall, a river, or when you're in a dense forest, you're likely breathing in negative ions in abundance as they evaporate from moving water.   Plants also release negative ions which attach then themselves to and effectively remove particles such as dust, mold spores, bacteria and allergens. The presence of high levels of negative ions in the air is credited for improving psychological health, cognitive functioning, productivity, well-being and reducing stress, depression and anxiety.  So while huffing in these ions isn't a cure all, nature is sure here to help.
5.  Fractals
Fractal shapes can be defined by simple mathematic rules that apply to a vast array of things that look visually complex or chaotic.  In a fractal patterns are repeating over and over in a loop ad infinitum which create images that appear to be chaotic but actually have order.  Fractals are familiar to us as they are found in everywhere in nature such as in clouds, waves, coastlines, shells, leaves, ferns, lightning, pine cones, snowflakes, mountains and flowers.  We are even made up of fractals.  Our lungs, capillaries, neurons and movements of the eyes' retina as we scan our environment are in fractal patterns.
Physicist and artist Richard Taylor found through EEG measurements that people's brainwaves indicated a relaxed state when they looked at fractal patterns that are commonly found in nature.  These types of fractal images engage us, lull us, make us self reflect, and awe us.  "The stress reduction is triggered by a physiological resonance that occurs when the fractal structure of the eye matches that of the fractal image being viewed." Says Taylor referring to how our eyes are hardwired to understand fractals.
Knowing this, you may now look at nature in a whole new way.
6.  Earthing
We've evolved with the earth and we're literally not in touch anymore.  By not being grounded to the earth, our health may be taking a toll.  The act of reconnecting with the earth by means such as walking in bare feet is called "grounding" or "earthing".   There is the hypothesis that by reconnecting with the earth, we can experience improvements  in sleep, gastrointestinal symptoms, a decrease in pain, inflammation and reduction in feelings of stress.
The research that has been conducted has shown that when we ground ourselves, the negative charged free electrons that come from the surface of the earth synchronize with the electrical energy levels of our bodies.  How do you feel with you are "earthing"?
7.  Sunshine
The sun is intrinsically tied to our moods and overall wellbeing.  Exposure to the sun has been shown to boost levels of the 'feel good' hormone serotonin.  And serotonin can effect mood and social behavior, appetite and digestion, sleep, memory and sexual desire and function.  Alternatively when we're not getting enough natural light it can also lead to SAD or 'Seasonal Affective Disorder'.  By being in tune with the sun's cycles, we also have the opportunity to align our circadian rhythm and help regulate our melatonin levels for more restful night's sleep.
The next profound way we are effected by the sun is from our body's absorption of Vitamin D.  We absorb D through our skin by exposing our arms, face, and body to the sun's rays. Vitamin D is absolutely necessary for good health and we get our dose primarily through the sun. With the right amount of Vitamin D, we can help keep our bones healthy, improve cardiovascular function, keep the lungs and airways healthy, boost muscle function, help our body fight off infections and protect us against cancer.
8.  Sound
The gentle babbling of a brook and the wind in the trees can physically change our minds and bodily systems, helping us to relax.  New research explains that soothing nature sounds affects the bodily systems that control the flight-or-fright and rest-digest autonomic nervous systems, with associated effects in the resting activity of the brain.
Alternatively, the quiet often only found in nature has a profound effect as well.  Studies show that when we experience extended periods of silence, stress and tension is relieved, our mental resources are replenished and we can have an opportunity to engage the brain's "default mode network".  In other words we can daydream, meditate and let our minds wander.
9.  Aroma
Aroma therapy has long utilized natural smells as a way to alter our moods and conditions.  Smelling pine for example has been shown to help boost metabolism and relieve pain and stress.  Lavender helps decrease anxiety, insomnia and promote the "rest and digest" brain response promoting relaxation.  Sage, Peppermint, Rosemary- we can find all of these wonderful fragrances in nature so let's literally stop and smell the roses.
10.  Fungi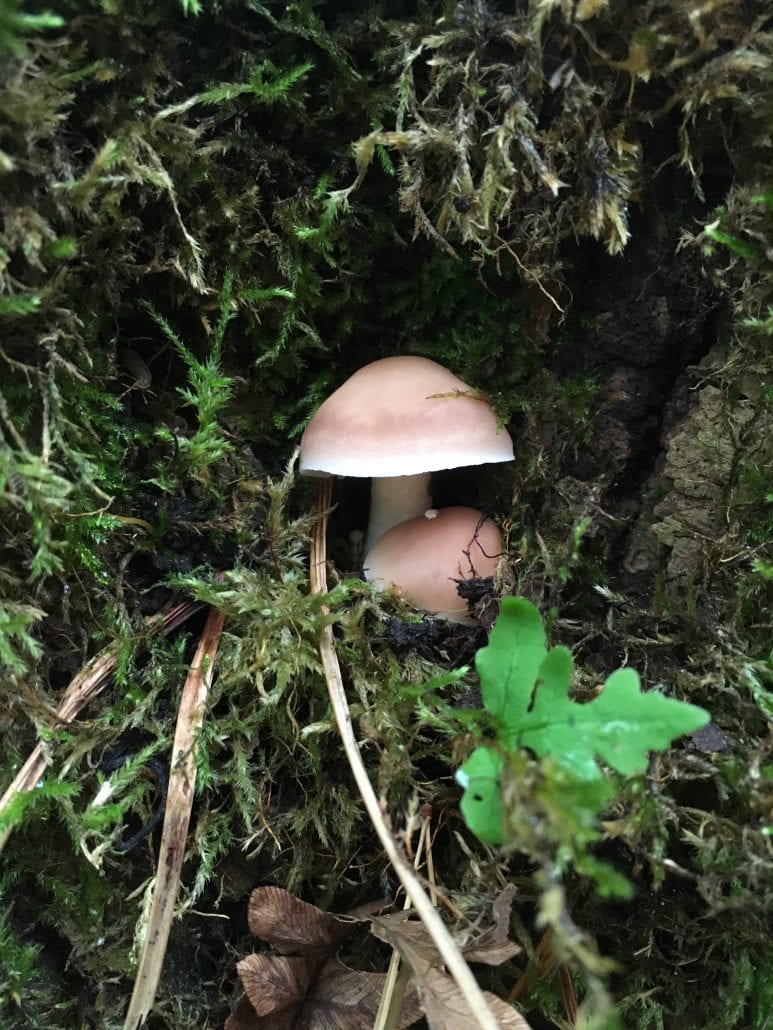 Psilocybin mushrooms or otherwise known as "magic mushrooms" have been used effectively in therapeutic settings to treat a wide variety of ailments and disorders including cluster headaches, obsessive-compulsive disorders, anxiety, depression, and addiction and there is a movement within FDA to recategorize it from schedule 1 to schedule 2.  There is a huge potential that psilocybin and related compounds could revolutionize the mental health field.  According to mycologist Paul Stamets, "We have never seen anything with such a strong safety profile give so much benefit for so little cost for such a long time."
Weather it's creating awe inspiring and life altering mystical experiences or micro dosing to help cure and relieve mental conditions, there is certainly something to be honored about fungi.
Learn More!
Check out more of Nature's Benefits 
To experience all of these amazing ways requires us to spend time with nature. And that includes not just physically being outdoors but time thinking about the role we all have with nature. Join the global movement towards developing a deeper connection to our natural world and let's spread the word!
Subscribe
To learn more about how you can interact with nature to benefit the planet and your own wellbeing.
References:
http://journals.sagepub.com/doi/pdf/10.1177/039463200902200410

https://qz.com/993258/dirt-has-a-microbiome-and-it-may-double-as-an-antidepressant/

http://www.organicsoul.com/how-negative-and-positive-ions-affect-your-health/

https://www.huffingtonpost.com/entry/the-healing-benefits-of-grounding-the-human-body_us_592c585be4b07d848fdc058a

https://aeon.co/ideas/feel-good-fractals-from-ocean-waves-to-jackson-pollocks-art

http://www.cnn.com/2016/06/01/health/science-of-awe/index.html

https://www.healthline.com/health/high-cholesterol/vitamin-d-relationship#vitamin-d

http://www.health.com/stress/why-nature-sounds-are-relaxing

https://www.sciencedaily.com/releases/2017/10/171023101753.htm, https://www.youtube.com/watch?v=2M71X-dspU4

https://www.organicfacts.net/health-benefits/essential-oils/pine-essential-oil.html, https://www.webmd.com/vitamins-supplements/ingredientmono-838-lavender.aspx?activeingredientid=838
Duncan Murdoch
CERTIFIED NATURE & FOREST THERAPY GUIDE Duncan is a Certified Nature & Forest Therapy guide living and working in Vermont. He grew up on the shores of Lake Champlain where his deep connection to Nature was formed. Following his passion for art, he moved to NYC where he lived and worked as a professional actor for 14 years. Nature called him to become a horticulturist so he transitioned to become a NYC parks department gardener which lead him to a life of nature (re) connection. After receiving his Nature & Forest Therapy Guide Certification from the Association of Nature and Forest Therapy (ANFT) in 2015, he began his practice in New York City guiding the first forest bathing groups in Central Park. He then moved back to his home state in Vermont in 2015 and began his work with the Intervale Center growing and planting native trees where he now serves as the Land Stewardship Coordinator. As a wellness practitioner, he is part of the UVM Integrative Health Practitioner Network and frequently conducts forest bathing experiences throughout Vermont and the world, in-person and online with his organization, Nature Connection Guide.
Nature Connection Guide
The Everyday Guide to deepening our connection and relationship with Nature for our health and the planet's prosperity.