Social Distancing While Forest Bathing
I wanted to touch base with you and relay this important information so that you may continue to connect to nature through these trying times.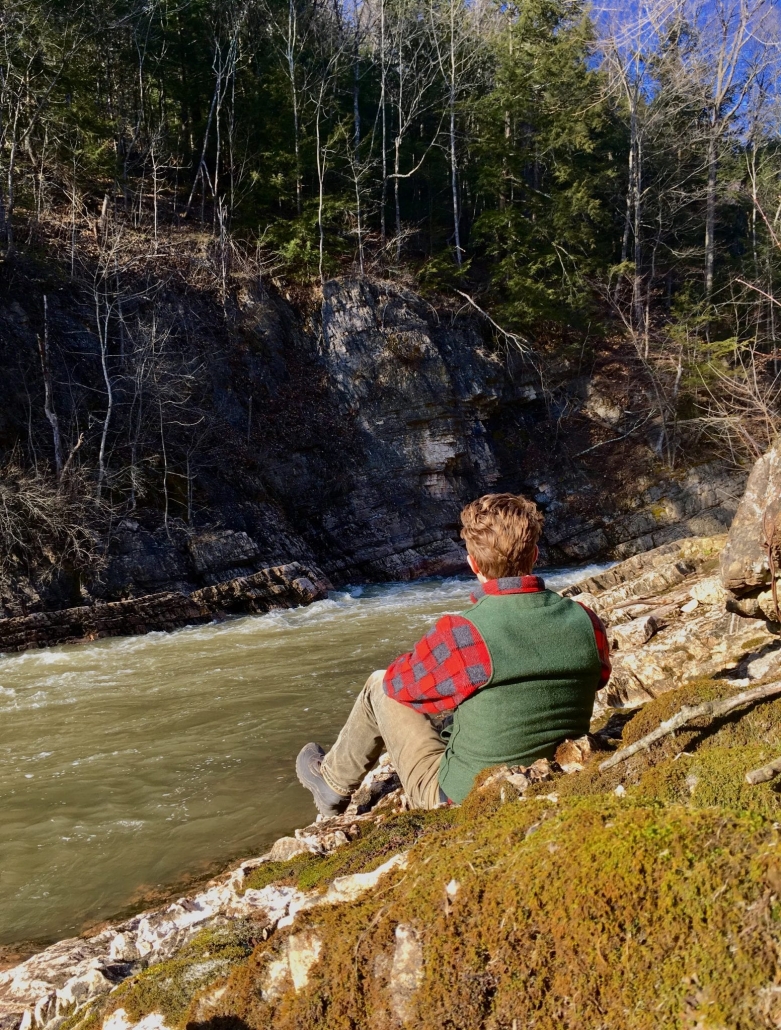 As of today, walking in nature is something we can do safely if you have access and information.
*** Update:  Many areas popular natural areas have experienced over-use which makes social distancing a challenge.  To avoid this from happening, consider going to a less popular area and appreciate the unique and overseen beauty.  Also, this is a time for you to rediscover and experience the nature that is closest to you.  Perhaps it's right in your backyard. ***
I understand some of you may not be able to get to nature safely without putting yourself at risk or others by potentially spreading the virus or you have been advised to shelter in place.
When I lived in NYC, I often closed my eyes and remembered the beautiful times I had in my childhood playing in the woods, swimming in the lake and running barefoot in the cool grass.  Even thinking of nature brings me a sense of peace.
Perhaps you can revisit and even create images of nature to experience with your imagination?
For those of you thinking of going for a walk in nature alone, here are some recommendations from the National Recreation and Park Association.
Recommendations for trail users on observing social distancing minimums
There are a number of specific recommendations for advising the public to keep safe social distancing when in parks or on trails
Follow CDC's guidance on personal hygiene prior to heading to trails — wash hands, carry hand sanitizer, do not use trails if you have symptoms, cover your mouth and nose when coughing or sneezing, etc.
Observe at all times CDC's minimum recommended social distancing of six feet from other people. Practice it and know what it looks like. Keep it as you walk, bike or hike.
Warn other trail users of your presence and as you pass to allow proper distance and step off trails to allow others to pass, keeping minimum recommended distances at all times. Signal your presence with your voice, bell or horn.
Note that trail and park users may find public restrooms closed — be prepared before you leave and time outings so that you are not dependent on public restrooms.
Bring water or drinks — public drinking fountains may be disabled and should not be used, even if operable.
Bring a suitable trash bag. Leave no trash, take everything out to protect park workers
There is no question that this is a fluid and evolving situation. The experiences of other countries have shown that more stringent measures may be employed by the government to restrict the use of public spaces and private facilities. This guidance is current as of today.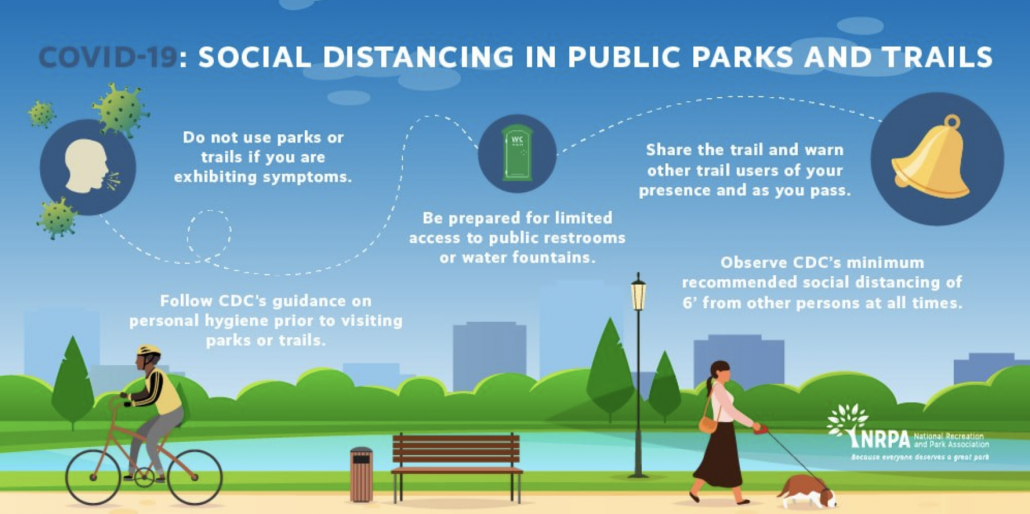 Here are some recommendations for going into nature with another person.
***Please reserve this activity to support the health of yourself or a person in need.***
Here, we can safely swap "birding" with "forest bathing."
"As we've all heard, social distancing is key, and birding can be a wonderful form of social distancing. However, it's not social distancing when you are riding in the car with other birders who don't live with you. It's not social distancing when you are clustering in groups, and certainly not when you are sharing optics such as scopes.  Anyone of us can be exposed to the virus through asymptomatic friends, so to restrict yourself to hanging out with people who have no symptoms is not enough.
Since this began, I have gone birding once with another person. We met at the site, having come in separate cars. We kept 6 feet distance between us at all times, and did not share any optics. If you are not following procedures like that, you're not social distancing. It's also obviously important at more popular sites to avoid touching handrails that other people could be touching, as the virus can live on surfaces for up to three to five days. Frequent handwashing and use of at least 60% alcohol-based hand sanitizer is also crucial." –Dr. Peter Crosson, medical doctor & avid birder.
I hope this helps you.  My heart is with you all.  We will get through this together.  May the forest be with you- always:)
Naturally yours,
Duncan
P.S.
TIPS
Visit natural areas and trails that are "off the beaten path" where there will be less people.  This is a time to appreciate those spurs or loops you haven't explored yet!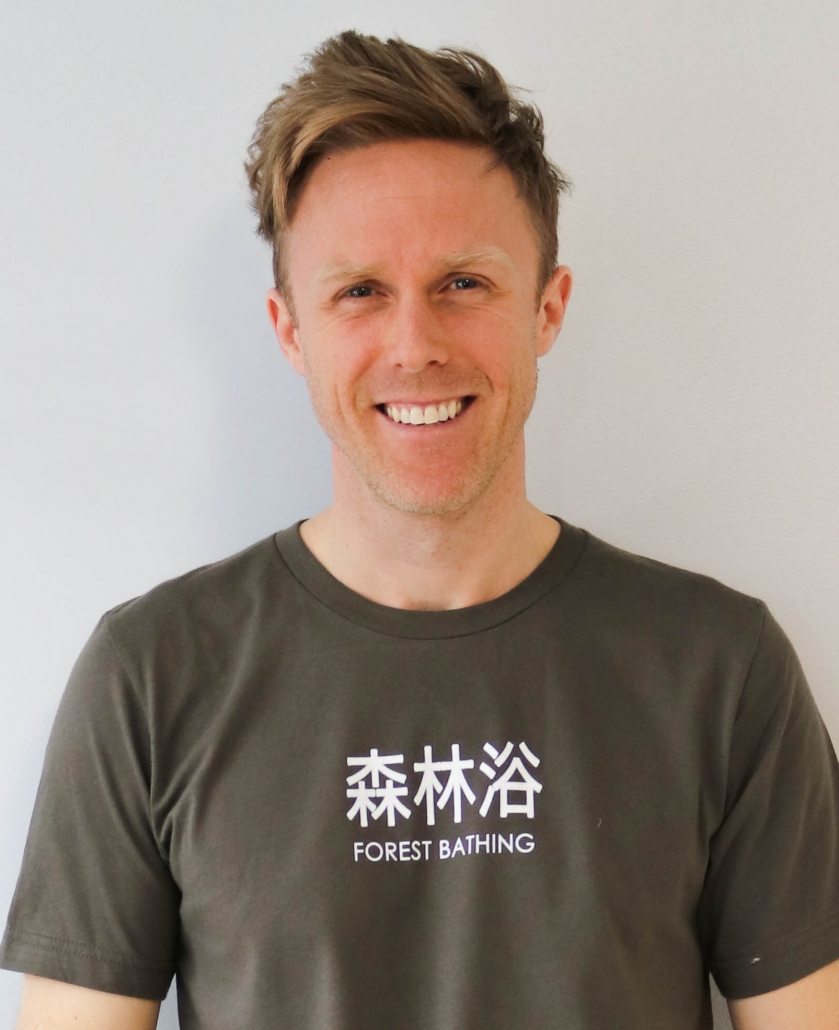 Duncan is a certified Nature & Forest Therapy Guide through ANFT and a Nature Integration Consultant. Contact Nature Connection Guide if you would like to experience a Nature & Forest Therapy Walk and if you would like to know how to best incorporate nature into your life.  Be sure to subscribe to Nature Connection Guide's Nature Newsletter to keep informed and current on the movement of Nature Connection.
Subscribe to the Nature Newsletter
Contact Nature Connection Guide
Duncan Murdoch
CERTIFIED NATURE & FOREST THERAPY GUIDE Duncan is a Certified Nature & Forest Therapy guide living and working in Vermont. He grew up on the shores of Lake Champlain where his deep connection to Nature was formed. Following his passion for art, he moved to NYC where he lived and worked as a professional actor for 14 years. Nature called him to become a horticulturist so he transitioned to become a NYC parks department gardener which lead him to a life of nature (re) connection. After receiving his Nature & Forest Therapy Guide Certification from the Association of Nature and Forest Therapy (ANFT) in 2015, he began his practice in New York City guiding the first forest bathing groups in Central Park. He then moved back to his home state in Vermont in 2015 and began his work with the Intervale Center growing and planting native trees where he now serves as the Land Stewardship Coordinator. As a wellness practitioner, he is part of the UVM Integrative Health Practitioner Network and frequently conducts forest bathing experiences throughout Vermont and the world, in-person and online with his organization, Nature Connection Guide.
Nature Connection Guide
The Everyday Guide to deepening our connection and relationship with Nature for our health and the planet's prosperity.