Forest Bathing in a
"

Forest Room

"
Forest Bathing Indoors is meaningful and effective. I know because I was there to experience it. And an experience it was.
When I arrived at the 5th floor space in busy mid-town Manhattan and opened the door to the "Forest Room", I thought to myself, 'Wow, this actually might work'.  I just drove in from Vermont where I conduct Forest Bathing Walks as a Certified Nature & Forest Therapy Guide in parks and well… actual forests.  This small room was to be my "forest" as part of ReVibe NYC's launch and as I settled in, I found myself surrounded by familiar friends; soft moist moss, dark soil beneath my feet, trees, ferns, echoing sounds of birds, tree stumps for sitting on and the rich smell of the forest in the summertime.  But wait… I was in a room, it was definitely winter and we were in the middle of a major metropolis.  Our first guest was about to arrive to experience something none of us had ever tried before:  A guided Indoor Forest Bathing Experience.
Entering Into The Forest Room
I am experienced at guiding people on walks in the forest.  They are typically with groups of up to 15 people at a time and last 2-3 hours.  I thought, how could I replicate the experience I typically offer, but in this room? One major difference was that I would take in up to 4 people at a time for a 15 minute session.  This was a tiny room (relatively) and people couldn't exactly wander down the trail and explore.  And this wasn't exactly a "natural environment". It was completely human made.  'But so was central park', a voice of mine chimed in trying to find some sort of logic to all of this.  I soon realized that thinking and theorizing about the room and the experience I was about to offer wasn't the point.  Forest Bathing is about the senses and this wasn't going to be any different.  The guests started to come.  They took their shoes off, were offered a tea from a Japanese Tea Ceremony Master in the reception area and as I opened the door to the "outside".
"

What does one DO in a forest room, anyway? I began to guide

"
Settling in
People's reaction as they entered the "forest room" was almost always one of awe and surprise.  Was this the same "awe" one gets in nature?  The same "awe" that psychologists say can play an important role in enhancing health, happiness and social interactions?  I needed to stop thinking about all of this and simply start feeling and focus on my senses. 
After that first response, the next thing that typically occurred to them was the quality of the air.  The room had a humidifier that spilled out a light rolling fog from the corner and diffused essential oils of cypress and fir.  The plants had been breathing in the space for a couple days.  Next up for people's process was 'which stump to sit on'? A familiar question from my walks in the woods.  'Where ever feels right to you', I responded.  In Forest Bathing, it's all about following your intuition, feeling comfortable and relating spatially to the environment that you're in.  After the guests sat, it seemed like they didn't know what would happen next.  Many had a look of bewilderment.  Completely understandable.  What does one DO in a forest room, anyway?  I began to guide. 
Over the course of the next three days, I refined the guided experience and settled on what seemed to work best for the forest room.  People came from all backgrounds as you'd likely find in a city like New York.  The majority of them were New Yorkers, living day to day in a highly urbanized environment.  I could relate.  I lived in NYC for 14 years before moving back to Vermont.  I explained to them what Forest Bathing was, where it originated and that I would guide them on an experience that would resemble the ones I give in the forest.  I brought the same "tools" such the stone I use on my walks for people to hold as they speak, the flute I play call people back from their dive into their sensory experience and my trusty iron Japanese teapot.  I then offered my guests "invitations" or prompts to help people tune in to their environment.
The Invitations
My first invitation was for them to announce their name, to introduce themselves not only to the humans in the room but to the other living organisms that make up their environment.  I reminded them that the plants were alive implying that the room wasn't one full of props but it was one of living organisms that were aware of our presence on some metaphysical level.  I didn't want to get "heady" so I refrained from pontificating and focused on emotions and feelings.  I constantly remind myself of this.
I asked the guests to speak about what their relationship was to nature.  Like your relationship to another person, are you best friends? Estranged relatives? In love? Taking a break?  One after another I heard them describe their relationship to nature. Their answers ranged but had one common thread: I like nature. I used to spend a lot of time with nature (especially as a child). I want to be in nature more.'  I detected a slight resignation to the fact that it's just so hard to break out of the city's orbit to feel like you're getting away enough to feel like you're in nature. 
Other people who lived in the city spoke about the wonderful parks where they would get their nature fix.  Others who lived outside the city, spoke warmly and proudly of their backyard haven.  One man spoke of sitting in his backyard forest and being visited by his friendly deer who he left apples out for.  I also asked people to speak about an early childhood memory about nature- all were pleasant and full of childish wonder but one woman was reminded of her mother whom she recently lost.  Her mother, the woman explained, was in the forest room with us.  Nature can conjure, hold and honor our feelings and this room was no different.  The Forest Room absorbed and processed the deep feelings that were being expressed just like a forest does.
"

One after another I heard them describe their relationship to nature. Their answers ranged but had one common thread: I like nature. I used to spend a lot of time with nature (especially as a child). I want to be in nature more.'

"
Coming to our Senses 
I guided them through sensory invitations focusing on one sense at a time.  Simple.  Slow.  No agenda other than to experience nature through sight, hearing, taste, smell & touch.  The experiences people described were identical to the ones the participants have on my walks in Vermont.  After all, touching a pine cone with your eyes closed in a forest room is just like touching a pine cone in a forest.  Beyond the 5 traditional senses, the sense of imagination kicked in constantly for me.  Time and time again as I sat in the forest room, my mind would process it all to be an actual forest. 
[bctt tweet="I was suddenly deep in the woods, communing with kindred souls- sitting in an alternate reality triggered by the sensory cues of the room. " username="natureconnect_"]
People came in alone, in groups, as friends, lovers, strangers and family.  What came up undoubtedly in the experience was "fellow feeling": sympathy and fellowship existing between people based on shared experiences or feelings.  That shared experience I have found is one that only nature can provide.  One guest asked me, 'how do you stay connected to nature when you live in the city?'  We were connecting right then and there in the Forest Room, I thought.  But the room was a temporary installation.  I attempted to answer her.  Nature is always close by.  It's in the park, it's in the sky, it's in a garden, it's through your window, it's in your house plant.  Nature lives within us, through us, in our memories and in our very expressions of humanness.  We ARE nature after all. 
Nature For Mental Health 
Nature is now being recognized as being an essential component to good health and wellbeing.  In 34 states, there are Park Prescription Programs where Doctors prescribe time outside for mental and physical health support.  ReVibe NYC understands this.  The founder and CEO, Andrew Tepper, LCSW has 15 years of psychotherapy work and specializes in working with pre-adolescents, adolescents, adults and families. His areas of interest include anxiety, depression, mood disorders, stress reduction, anger management, and conflict resolution.  Having a Forest Room for the launch of ReVibe NYC made perfect sense.  And offering Forest Therapy Walks in actual forests will have an even bigger impact on mental health.  There's something about nature that invites healing, restoration and rejuvenation.
The Forest Room's Results 
Sharing nature with others, even in a "forest room" in the middle of Manhattan, proved to be one full of meaning, relaxation, comfort, familiarity, wonder and connection.  To wrap up the experience of the forest room, I gave thanks to our guests and to the plants in the room and encouraged my new friends to continue to develop and deepen their relationship to nature.  It takes time and intention for us to do so.  So now I'm back in Vermont in a place where I'm surrounded by trees, fields and mountains.  But even so, I'm inside on my computer.  It's time for me to unplug, water my plants and go for a ski to connect to what binds us all: Nature.
by Duncan Murdoch
To make your own "Forest Room" at your next NYC event, contact Hannah @  Cloepfil Creative Productions
For Wellness services including Acupuncture, Cranial Sacral Massage and Psychotherapy, contact Revibe nyc
For a Certified Nature & Forest Therapy Guide in NYC and Vermont, contact Duncan Murdoch @ Nature Connection Guide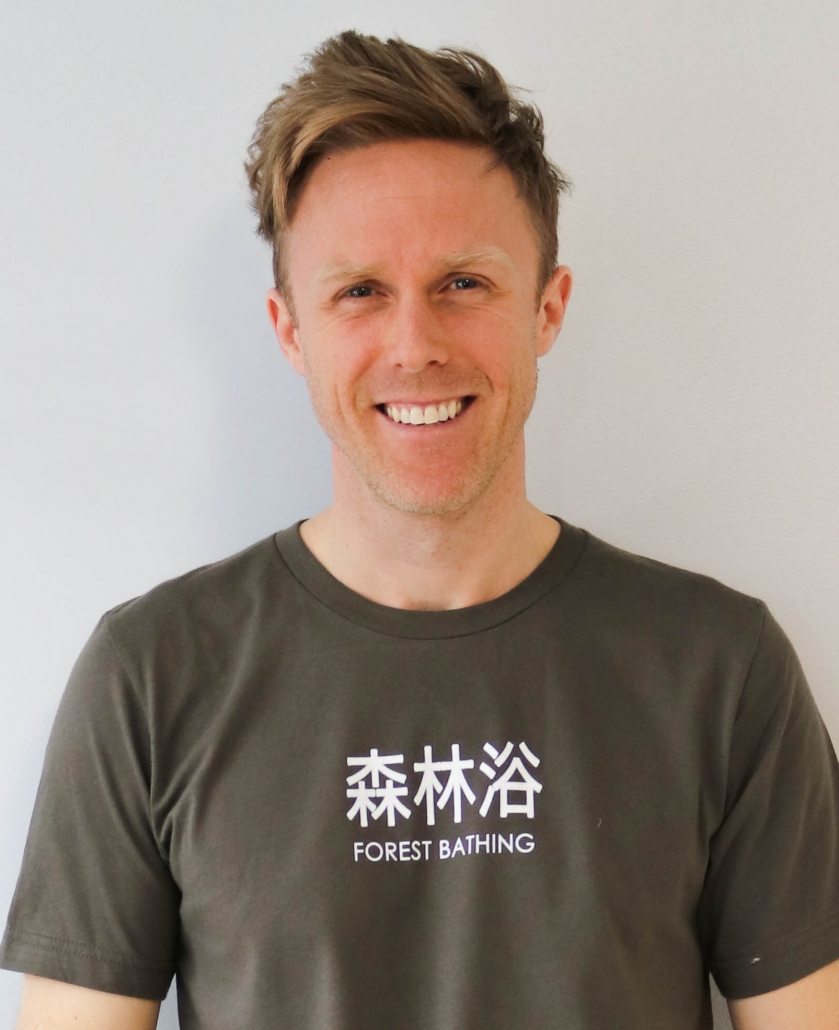 Duncan is a certified Nature & Forest Therapy Guide through ANFT and a Nature Integration Consultant. Contact Nature Connection Guide if you would like to experience a Nature & Forest Therapy Walk and if you would like to know how to best incorporate nature into your life.  Be sure to subscribe to Nature Connection Guide's Nature Newsletter to keep informed and current on the movement of Nature Connection.
Subscribe to the Nature Newsletter
Contact Nature Connection Guide
Duncan Murdoch
CERTIFIED NATURE & FOREST THERAPY GUIDE Duncan is a Certified Nature & Forest Therapy guide living and working in Vermont. He grew up on the shores of Lake Champlain where his deep connection to Nature was formed. Following his passion for art, he moved to NYC where he lived and worked as a professional actor for 14 years. Nature called him to become a horticulturist so he transitioned to become a NYC parks department gardener which lead him to a life of nature (re) connection. After receiving his Nature & Forest Therapy Guide Certification from the Association of Nature and Forest Therapy (ANFT) in 2015, he began his practice in New York City guiding the first forest bathing groups in Central Park. He then moved back to his home state in Vermont in 2015 and began his work with the Intervale Center growing and planting native trees where he now serves as the Land Stewardship Coordinator. As a wellness practitioner, he is part of the UVM Integrative Health Practitioner Network and frequently conducts forest bathing experiences throughout Vermont and the world, in-person and online with his organization, Nature Connection Guide.
Nature Connection Guide
The Everyday Guide to deepening our connection and relationship with Nature for our health and the planet's prosperity.